I couldn't help but give it the longest title ever cause I love it so much 😛 I am so excited to share this latest update to my camper appliqué pattern, It's subtle but now there's a Shasta lightning bolt version of the camper.
I used this pattern update to work on my own appliqué techniques with my machine and while I can definitely improve on my small curves I still love the shabby chic look of this camper project.

Visit Terri Ann S's Craftsy Pattern Store »
//
Go and download the pattern on Craftsy, till the end of February 2015 this pattern is 30% off and available for immediate digital download only $1.99.
About the Pillow
To demo the appliqué update I used all fabrics from my scrap stash to make a pillow for my mom for her birthday (remember, 2015 is the pillow gift year.) I appliquéd the pattern onto Essex Linen in Natural using Heat n' Bond lite and a mix of Gunternberg and Metler threads to do a zig-zag appliqué stitch.
This is the first time I've used the really neat taper corner feature on my Pfaff machine. I'm happy with how it came out and I'm excited to practice this technique more with a couple upcoming projects this spring! (Jenn, I'm looking at you and your quilt on this one!!!)
I used a 3/4″ strip of Kona white fabric, also from my stash, to add a flang to the pillow for a little extra detail. I love the look of the crisp white cotton against the natural linen. So shabby-chic pretty!
Happy birthday Mom!!
Linking up with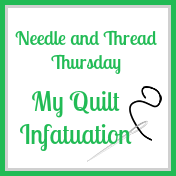 Finish it up Friday