I posted about my latest quilt, Life's an Adventure, last week. The name is new (as of yesterday) but after a trip to my LQS to get the backing fabric I got all me ducks in a row. Now I'm just waiting on a callback from a local quilter.
The owner of the LQS was the woman who helped this time and while we looked around the store for a good backing she was the one that ended up in Kate Spain territory! So yea I ended up choosing a Kate Spain Sunnyside print for my backing, it tied in colors well and we both agreed it would show off the quilting pretty well too.
I knew I wanted to put a cute applique I've been drawing lately on the backing so I carved out a spot for two of these cute little campers and my quilt label on some scrap white from the quilt top.
I've published that camper applique on Craftsy where you can download the 4 page pattern with detailed printing instructions on how to enlarge and reduce the template to ANY custom size you want!
Visit Terri Ann S's Craftsy Pattern Store »
//
And last but not least the full pieced top of Life's an Adventure
I'm excited to finish writing up the pattern for Life's an Adventure tonight and publishing it on Craftsy. Keep a look out for it or sign up for the newsletter (on the right –>) and I'll email you when it's ready!
What are you finishing up today?
Linked up with Finish it up Friday!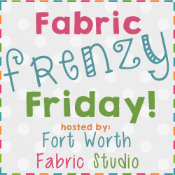 Featured